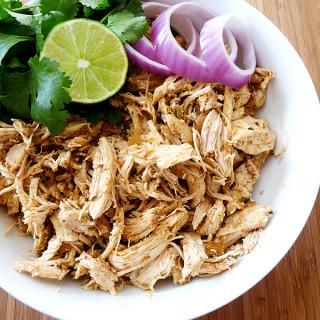 This is a recipe I thought I'd lost. It took me ages to find the base of it. See I remember taking a recipe and changing it up but I had it all recorded in my TasteBook online. Sadly, and rather rudely, TasteBook removed all their users recipes with a days notice and they just deleted them so there is nothing left of my old recipes except my memories or what I shared here. So after much searching, I finally found the recipe I started with which reminded me of my recipe.

What You'll Need
3 boneless, skinless chicken breasts
1 1/4 teaspoon cumin
1 tablespoon chili powder
1/2 teaspoon coriander
1/4 teaspoon paprika
1 teaspoon salt
1 teaspoon black pepper
3-4 tablespoons lime juice (2 limes)
1 large onion, chopped
1 jalapeno, seeded and minced
4 garlic cloves, minced
1/3 cup (packed) cilantro leaves, chopped
1 cup chicken broth

Mix It Up


Add chicken breasts to your crock pot. These can be frozen. I always start mine frozen.


Sprinkle with cumin, chili powder, coriander, paprika, salt, and pepper.


Pour (or squeeze) lime juice over the chicken and spices.


Top chicken with onions, garlic, and chopped cilantro (fresh coriander).


Pour chicken broth over everything.


Cook on low for 8 hours, or until cooked through (different crock-pots cook at varying heats) and tender.


Shred the chicken breasts in crock pot and stir everything together.


If there is still juice in the crock pot you can let it cook a while longer.



Makes fast and easy tacos, burritos or is a great meat to make taquitos with. We love burritos with a little rice, tomato, avocado, cheese and chipotle sauce which I will post about next week. It is a great summer recipe when you can get some bell peppers and we like to slice zucchini really thin and add it to our tacos. Yum!

I've actually gotten most of this ready the night before and just dumped it into the crock pot before I left for work. I usually just put all the spices together in a little container and then all the chopped ingredients into a Pyrex dish or something I can cover. That way it is just meat in the crock pot and in the morning before I leave I can just dump everything on.

We also use lime juice which makes it easier and we have the Better Than Bullion base for our chicken broth so we can make it to order.

I hope you all enjoy this.

Taste Tip: We usually use the jalapeno for this recipe but we actually love a serrano instead. We think serranos have better flavor.

Kitchen Tip: To easily juice the lime, roll it on the counter top a few times like you are kneading it. Then slice in half and squeeze.

Recipe Note: You could also prepare this recipe in a pressure cooker. Cook for about 20-30 minutes on high pressure if chicken is thawed, 40-45 minutes if chicken is frozen.