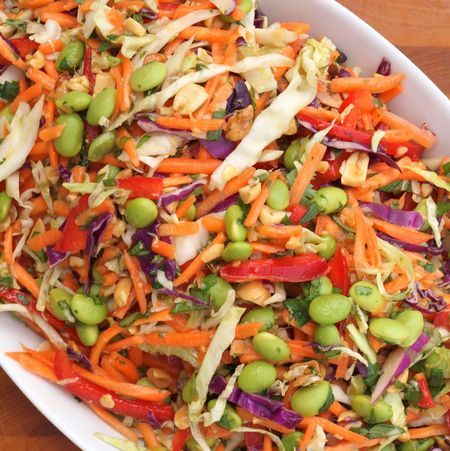 My cousin made this recently for one of our family gatherings and it was delicious. I just had to share the recipe with you all. It actually isn't too hard to make and it is a great twist on a slaw. And as I said it was at one of our family gatherings it is a wonderful addition to a potluck or gathering and makes enough for approximately 25 people and a little more so you'd only have to double for really large parties. I personally think this would be great for a different salad at our Easter gathering. Hmmmm.
What You'll Need
Dressing
1/4 cup honey
1/4 cup vegetable oil
1/4 cup unseasoned rice vinegar
1 tablespoon soy sauce
1 teaspoon Asian sesame oil
1 tablespoon peanut butter (I like Skippy Natural No Need to Stir)
1/2 teaspoon salt
1/2 teaspoon Sriracha sauce (Thai hot sauce - optional)
1 tablespoon minced fresh ginger (approx 1/4 tsp ground ginger)
1 large garlic clove, minced
The Slaw
4 cups prepared shredded coleslaw
2 cups prepared shredded carrots
1 red bell pepper, thinly sliced into bite-sized pieces
1 cup cooked and shelled edamame*
2 medium scallions, finely sliced
1/2 cup chopped salted peanuts (or you can leave them whole)
1/2 cup loosely packed chopped fresh cilantro
Mix It Up
Make the dressing by combining all of the ingredients in a medium bowl. I don't add salt because I feel the soy sauce has enough in it. I'm not big on salt anyways as my mom always made food without it.
And I'm not inclined to work with fresh ginger (apparently neither is my cousin) so we both used the ground ginger you can purchase in the spice section of your store.
Also, you can leave out the Sesame Oil without it changing the taste drastically. I tell you this because while it is very good with the Sesame, I have not had it and still made this dressing.
The Sriracha is optional and while I'm not a big fan of spicy just a touch of this is delicious and not overwhelming.
Stir until the peanut butter is dissolved. Set aside. Incidentally, this dressing is delicious on homemade Stir-fry and Chinese Chicken Salad. Yum!
Combine all of the slaw ingredients in a large bowl. One of the best things about this recipes is despite it's amount of ingredients it is rather easy to make. It is especially wonderful that things like cole slaw and carrots come already shredded.
I like this salad with the edamame but being as they are soy I try to avoid them. First, I've been told by a nutritionist friend of mine that soy isn't particularly good for women in general but is especially bad for women who are pregnant, breast feeding or have thyroid problems. I haven't noticed a huge problem but because I would just rather avoid them when I can I have some substitutes for the edamame.
*You can use fava beans, peas, chickpeas, cannelini beans, or kidney beans. Or just mix some of these. I love kidney beans so I'm partial to those. And I'd even been inclined to have some edamame and some of one of these other options.
Add the dressing and toss well. Let sit at least ten minutes so vegetables have a chance to soak up the dressing. For those with mild peanut allergies we've left the dressing off some of the salad and put the additional peanuts on the side as well. Of course, you can leave these out entirely and if not allergic to other nuts you could use an almond butter and chopped almonds.
You can make this salad a head of time but then you'll want to leave the dressing off until approximately 10-15 minutes before serving. We tend to leave it off when we just have it around because otherwise the slaw gets a bit soggy.
Taste and adjust seasoning if necessary. Serve cold.
Really tasty in a wrap with some grilled chicken or on the side of shrimp. YUM!