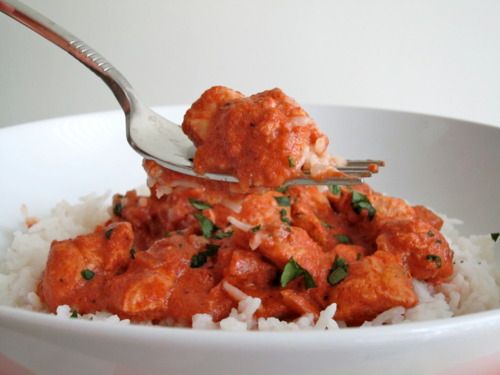 Prep Time:

25 min.

Cook Time:

4 1/4 hours

Servings:

8


What You Need:
29oz tomato puree
1 1/2 cups (12oz) yogurt
1/2 large onion, finely chopped
2 tbsps olive oil
4 1/2 tsps minced fresh gingerroot (approx 3/4 tsp of ground ginger)
4 gralic cloves, minced
1 tbsp garam masala
2 1/2 tsps salt
1 1/2 tsps ground cumin
1 tsp paprika
3/4 tsp pepper
1/2 tsp cayenne pepper
1/4 tsp ground cinnamon
2 1/2 pounds boneless skinless chicken breasts, cut into 1 1/2 inch cubes
1 jalapeno pepper, halved and seeded
1 bay leaf
1 tbpn cornstarch
1 cup heavy whipping cream
hot cooked basmati rice
chopped fresh cilantro, chopped

Mix It Up


In a 5-quart slow cooker, combine the first 13 ingredients (tomato puree to cinnamon).


Add chicken, jalapeno, and bay leaf.


Cook, covered, on low 4 hurs or until chichen is tender.


Remove jalapenos and bay leaf.


In small bowl, mix cornstarch and cream until smooth; gradually stir into sauce.


Cook covered, on high 15-20 minutes or until sauce is thickened.


Serve with rice


Sprinkle with fresh cilantro if desired.



Note: I recommend wearing disposable gloves when cutting hot peppers as the oils can burn your skin.

You can buy garam marsala but if you are so inclined to make it here is a recipe I found.

What You Need:
1/12 tsps ground coriander
1 tbsp ground cumin
1 1/2 tsps ground cardamom
1 1/2 tsps black pepper
1/2 tsp ground cloves
2 tbsps ground tumeric
1 tsp ground cinnamon
1/2 tsp ground nutmeg


Mix together.


Keep in an airtight container in a cool, dry place.