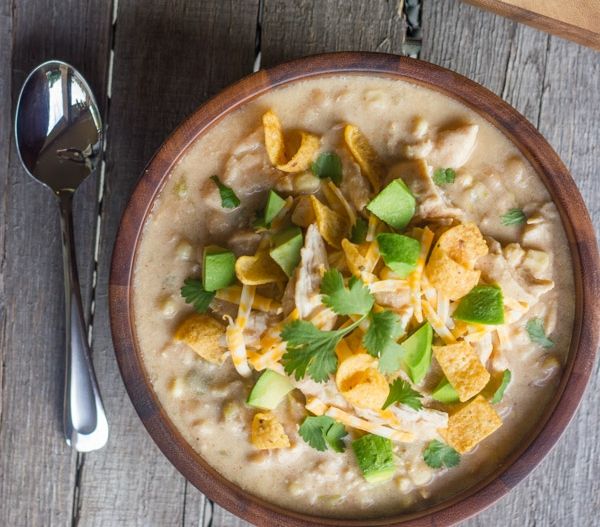 This is another variation on the previous White Bean Chicken Chili. I love Chicken Chili and I want the best recipe so I keep trying them. It is also good with a bit of rice which isn't something in the recipe but it does make a delicious meal. Anything crossed out is something I thought unnecessary.

What You Need
3-4 boneless skinless chicken breasts, uncooked
1 1/2 teaspoons chili powder
1 teaspoon cumin
1/2 teaspoon onion powder
1/2 teaspoon garlic powder
dash of cayenne pepper
14.5 ounce can chicken broth*
4.5 ounce can chopped green chilies
15 ounce can white corn, drained
2 15.5 ounce cans white beans, drained (Cannellini or Great Northern are good)
3 tablespoons butter
3 tablespoons flour
1 cup milk
1 teaspoon Better Than Bullion chicken base
1/4 teaspoon white pepper
1/2 teaspoon seasoned salt
1/2 cup sour cream


*I don't buy a lot of Chicken Broth but instead have the Better Than Bullion around to make broth. So I would be making broth and adding a little extra bullion.

Mix It Up



Place chicken breasts on the bottom of a crock pot, and add chili powder, cumin, onion powder, garlic powder, cayenne pepper, chicken broth, green chilies, corn and beans. Cook on low for 6-8 hours.


About an hour before serving: In a small saucepan, melt butter over medium high heat. Whisk in flour, and allow to bubble and brown a bit. After a few minutes, gradually whisk in the milk and chicken base.


Allow the sauce to simmer for 4-5 minutes, whisking frequently until it is slightly thickened. Add salt and pepper.


Pour sauce into crock pot and mix to combine.


Add sour cream and mix.


If chicken has not already shredded with stirring, take out large pieces, shred them with two forks, and return to the crock pot.


Let the chicken chili cook on low 1 more hour if you can.


The picture is a stock picture and not from my cooking but I'm still unsure why you'd use Frito's rather than good old tortilla chips.