This looks like a delicious thing to make and a fun thing for those who have kids. I have always been a fan of making mini pizzas. My mom always let us pick our own toppings and you could do something like that for these calzones. They only call for a bit of filling but you could always add a little something.

What You'll Need
Dough:
1 pkg yeast
1 Tbsp sugar
1 cup warm water
1 tsp salt
3 Tbsp olive oil
1 ¾ cup white flour
1 ¼ cup whole wheat flour
Filling:
Mozzarella cheese
Marinara sauce
Turkey pepperoni


Additional Filling Ideas:
Canadian Bacon
Pineapple
Olives
Mushrooms



Combine yeast, sugar and warm water and let set for 5 minutes.


Mix remaining ingredients and then add yeast mixture.


Let dough rise, in a warm place, for about 1-2 hours, until double in size.


Roll out a small portion of the dough at a time, cutting two equal sized hearts.


Fill middle with a thin layer of marinara sauce, turkey pepperoni, and cheese and then layer the top with another heart and crimp the edges together with a fork. Set on baking tray.


Bake at 400 for 10-15 minutes until lightly browned.


Test to make sure dough is done baking.


Serve with marinara sauce or ranch dressing for dipping.


Have it with salad for a pretty delicious meal!

Source

And should you be looking for another goodie for Valentine's Day, might I suggest Puppy Chow.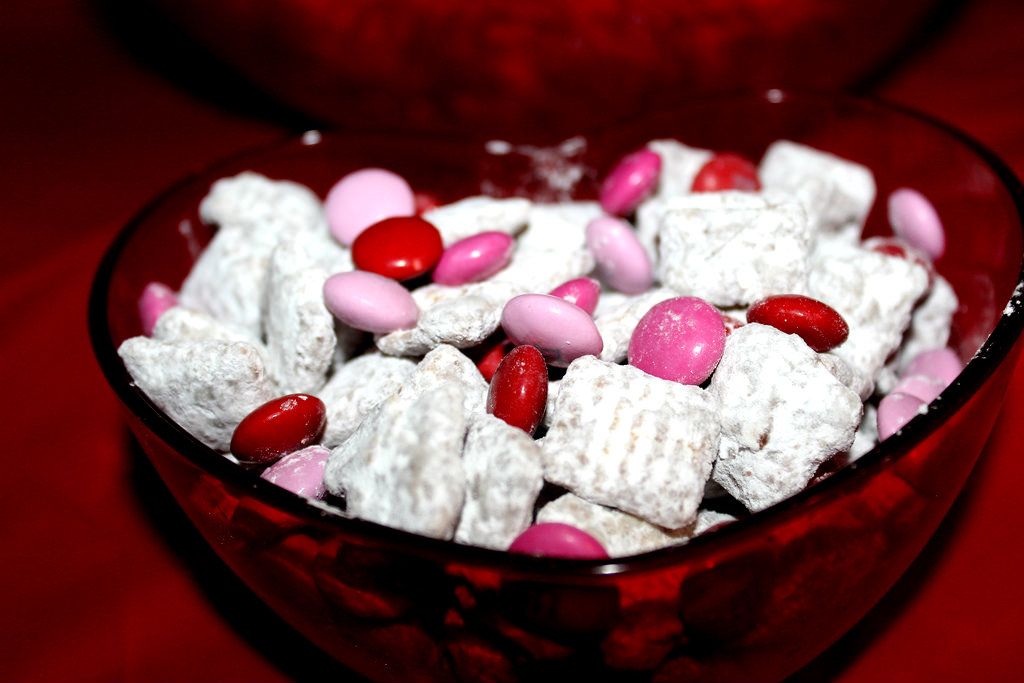 Always, fun and delicious! And the best part is you can customize it to a holiday much like Rice Krispie Cookies.