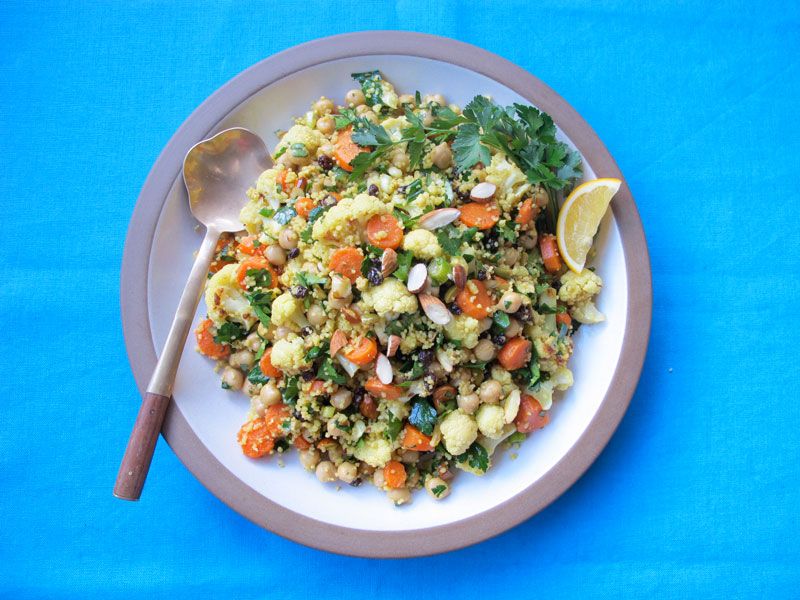 My family has pulled together with my mom getting out of the hospital and one thing they've done has brought my mom a few meals to tide her over since she can't do much of that herself. This is a recipe my cousin shared with my mom and I thought I'd share it with you.
Serves 4
What You'll Need
1 head cauliflower (about 1 pound), trimmed to 1-inch florets
8 ounces carrots (about 1 small bunch), peeled and cut into 1/4-inch-thick slices
3 Tbsp. extra virgin olive oil
1/2 tsp. salt
1/2 cup whole-wheat couscous
1 (14.5-ounce) can garbanzo beans, rinsed and drained
3 green onions, thinly sliced
1/2 cup chopped fresh Italian parsley
1/4 cup chopped fresh cilantro
1/4 cup chopped pitted brine-cured green olives
1/4 cup currants
1/4 cup chopped toasted almonds
Additional Italian parsley sprigs
Lemon wedges
Moroccan-Spiced Dressing (see separate recipe below)
Mix It Up


Preheat the oven to 450°F. Brush a heavy large rimmed sheet pan with olive oil.


In a medium bowl, toss the cauliflower and carrots with the 3 tablespoons olive oil. Spread the cauliflower mixture in a single layer on the prepared sheet pan and sprinkle with 1/4 teaspoon of salt.


Roast the vegetables in the oven until browned in places and tender, stirring once, about 15 minutes.


Meanwhile, bring 1/2 cup water and the remaining 1/4 teaspoon salt to a simmer in a heavy small saucepan.


Remove the saucepan from the heat and whisk in the couscous.


Cover and let stand 5 minutes.


Fluff the couscous with a fork.


Transfer the couscous to a large bowl; mix in the cauliflower, carrots, garbanzo beans, green onions, chopped parsley, cilantro, olives, and currants.


Whisk the Moroccan-Spiced Dressing to blend; add to the salad and mix well.


Season the salad to taste with salt and pepper.


Salad can be prepared 1 day ahead. Cover and refrigerate.
When Serving
Sprinkle almonds over the salad and garnish with parsley sprigs. Serve with lemon wedges.
Moroccan-Spiced Dressing
Makes about 1/3 cup
What You'll Need
1 tsp. cumin seed
1 tsp. coriander seed
1/2 tsp. turmeric
1/4 tsp. ground cinnamon
3 Tbsp. extra-virgin olive oil
3 Tbsp. freshly squeezed lemon juice
2 garlic cloves, pressed
1/4 tsp. kosher salt
Mix It Up


Stir the cumin and the coriander seeds in a small, heavy dry saucepan over medium-high heat until toasted and fragrant, about 30 seconds.


Remove the skillet from the heat and stir in the turmeric and cinnamon.


Let the spices cool slightly and transfer them to a mortar and pestle or small spice grinder and coarsely grind.


In a small bowl, combine the spices with the olive oil, lemon juice, garlic, and salt, and whisk to blend.


I honestly don't know if I'd ever make the dressing or not. I mean transfer to mortar and pestle? I guess that would be a reason to buy the Outlander one. I don't have a spice grinder either. I wonder if you can buy this dressing somewhere?
My cousin also substituted couscous for quinoa which was delicious.