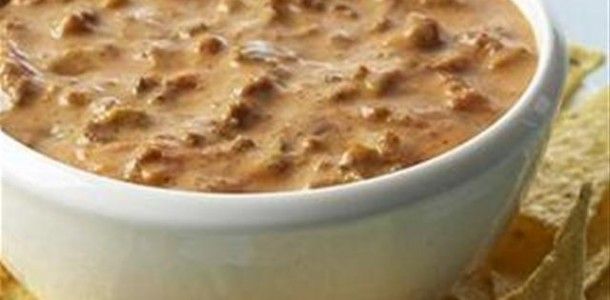 We are going to a New Year's party which will likely last a while. The plan is actually to get together as a late Christmas party but that means we'll eat early. So about 10:30 or so people will be wandering around looking for something to eat. I thought I'd put this out to satisfy them. Of course, you could do this for any party and have it sitting out for people to consume. Delicious and impossible to resist.

You might notice a trend of beefless recipes. I can't eat beef (beef intolerance) so I have to substitute delicous beef with turkey or chicken. Sometimes the results are amazing and sometime they leave something to be desired.

What You Need
2 cans (15 ounces each) Hormel Chicken Chili with White Beans or Dennison's Turkey Chili
1 can of white beans (ours had onions, garlic and jalapenos in it)
1 8 oz package of cream cheese
1 1/4 3 cups shredded Mexican or Medium/Sharp Cheddar Cheese
1/2 1 cup salsa
1 1/2 tbsp taco seasoning
1 4 ounce can chopped green chilies or jalapenos

Optional:
chopped green onions
corn chips
cilantro
sour cream

Mix It Up


Spray your slow cooker with non-stick spray.


Combine chili, cream cheese, shredded cheese, salsa, taco seasoning, and peppers in your slow cooker.


Cook on a low heat for approximately 2 hours until cheese is melted or high for 1 hour. I would check it regularly and stir.


Sprinkle with cilantro and/or green onions.


Serve with tortilla chips and sour cream if desired.


Sounds so good I'm tempted to make it before the party so I can eat some... maybe not.

So I made this and it was a huge hit but I made mine a little different so I changed things at the top a bit. That is why things are crossed out or in italics. I like my Chili Cheese Dip to be very cheesy and this was and a bit spicy but everyone loved it and they kept eating until my crock pot was totally scrapped clean.

Now I'm going to try I Potato Soup and a Chicken Chili recipe for future posts.