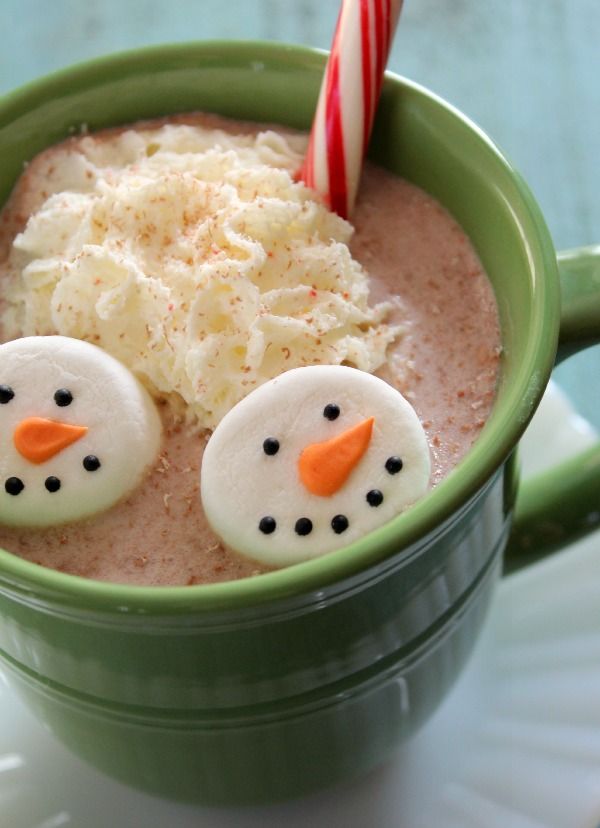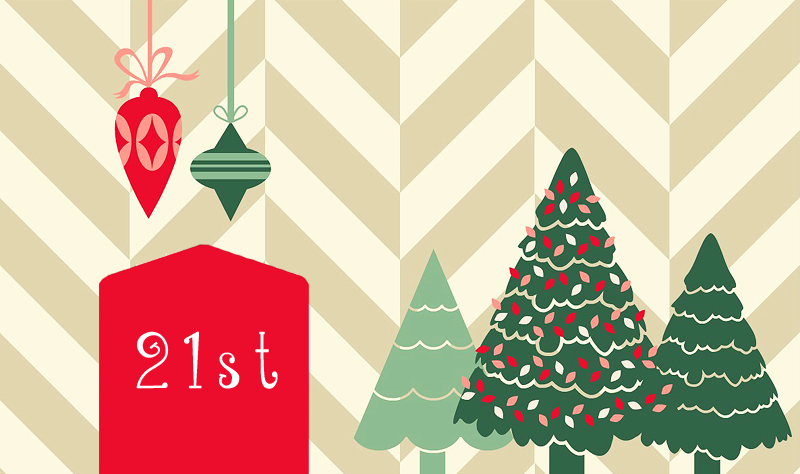 So I've had this slow cooker recipe for hot chocolate for a couple of years but it only feels wintry and not as Christmas-y as I'd hoped. But then I found this adorable twist and thought it was necessary to share the whole thing over again.
What You Need:
3 cups nonfat dried milk
1 cup powdered sugar
3/4 cup cocoa powder
1/4 tsp salt
1/2 cup chocolate syrup
1-2 tsp peppermint extract (optional)
7 cups water
One bag Kraft Jet-Puffed Marshmallows
Black 20-second icing
Orange piping icing
3/4 cup powdered sugar
1/2 cornstarch
I find this adorable. Not only do most kids want marshmallows in there hot chocolate but often time the adults do too. Why not be a little fancy and give them a snowman to melt in their cocoa.
Mix Up the Hot Chocolate


Combine the dry ingredients into your Crockpot and stir with a spoon.


Squeeze in a half-cup of chocolate sauce, and add the peppermint extract.


Add the water, a cup at a time, and stir well.


The chocolaty mixture will be bubbly and look powdery. It's okay---it will cook together.


Cover and cook on high for 2-3 hours, or until completely hot. Serve with marshmallows and candy canes.


If serving to guests, keep the pot on low with the lid off, and provide a ladle. (If kept on warm, the hot chocolate will not stay warm enough.)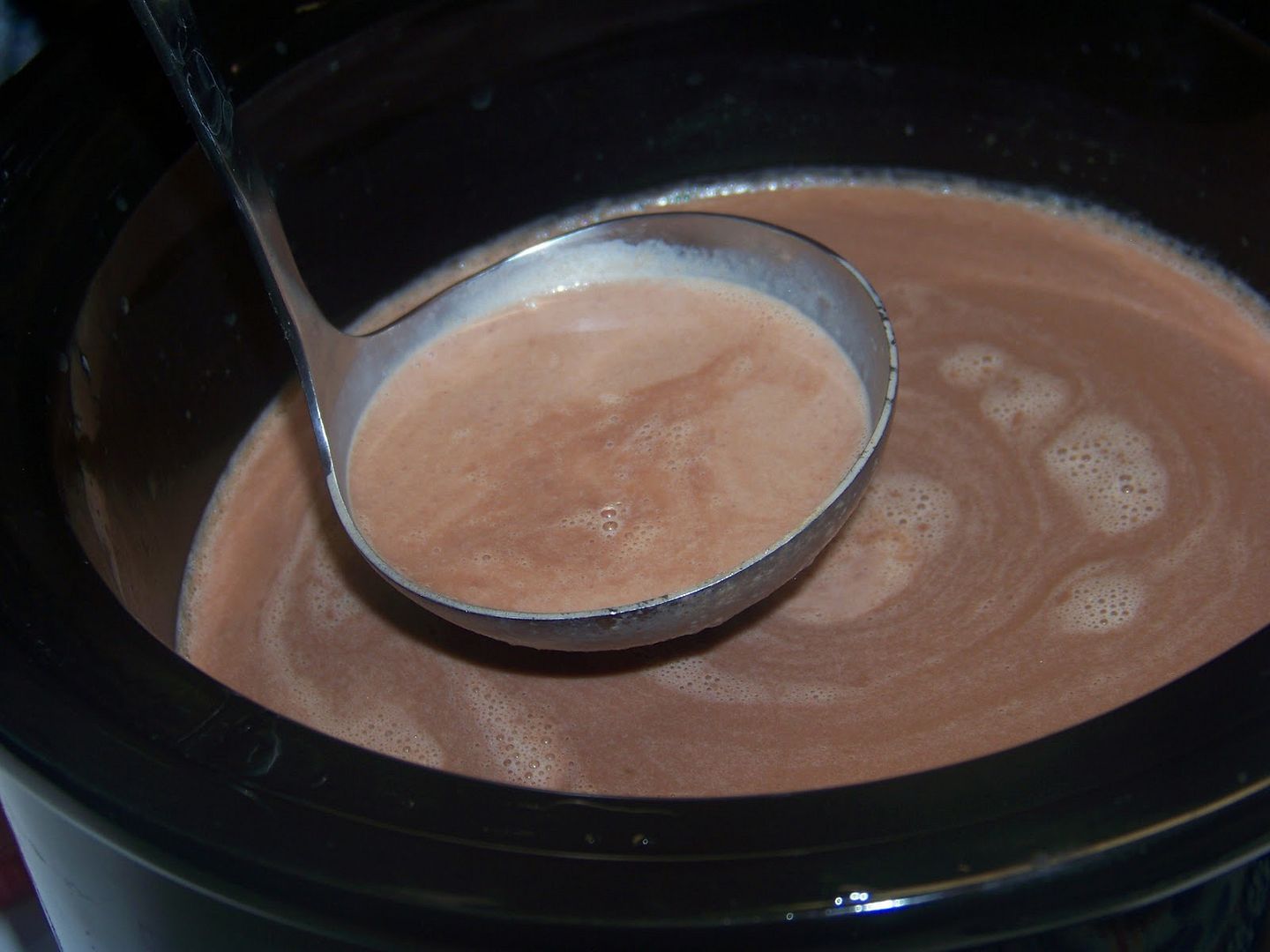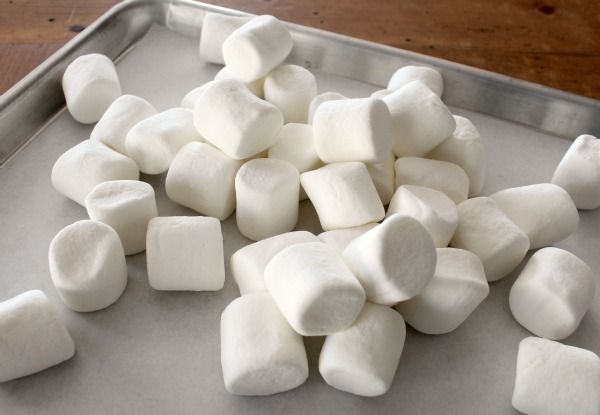 Make the Snowmen


Begin by spreading out the marshmallows on a parchment lined cookie sheet.


Mix the powdered sugar and cornstarch in a bowl. Set aside.


Then cut the marshmallows in half with kitchen scissors and lay them on the baking sheet sticky side up. If the marshmallows start sticking to the scissor dip the scissors into the sugar and cornstarch mix.


Once the marshmallows are cut, dip the sticky side into the sugar mixture.


After their dipping, use a kitchen strainer to shake off any excess coating from the marshmallows. Remove as much as possible.


Go through and pick the marshmallows that look the roundness and aren't too squished.


Now add a snowman face with your black icing, minus the nose.


Then with the Orange make a nose.


Let the icing dry for a few hours and you'll have a bunch of adorable snowmen marshmallows to drop into hot chocolate.


What a simple idea and yet so adorable. I want to make hot chocolate in the Crockpot just so I can make snowmen!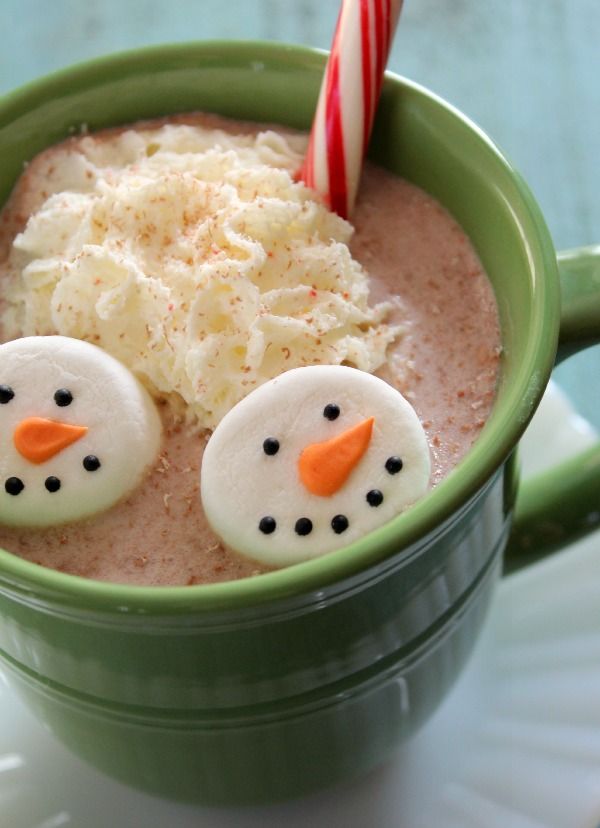 I have seen dozens of methods, some of them so complex that I find myself doubting my ability to pull them off and still be sane enough to enjoy the fruits of my labors. One recipe was for cut out marshmallow snowflakes that looked dreamy but also had you making marshmallows from scratch which is nice but not quick in the slightest. I like this better because it is simple an there is very little involved in making your hot chocolate look adorable!