Are you on sugar overload too? Boy some of those last posts had a lot of sugar to them. So I was thinking it was time for something healthy but tasty, I promise. You might even find it is a great vegetable recipe for a gathering or for Christmas. I mean I doubt children will be thrilled but adults will likely dig in.

What You Need:
Sea Salt, for to taste
1 lb boiling potatoes, cut into chucks
1 butter nut squash, seeded and cut into wedges
6 small red onions, quartered
1/4 cup extra virgin olive oil
8 cloves of garlic
2 red bell peppers, seeded and cut into chucks
4 springs of rosemary
4 springs of bay leaves

Now, I will say you can probably change this up because we all prefer some vegetables to others and feel different ones go together. I saw one recently I liked:

2 zucchinis, sliced thickly and cut in half slices
12 mushrooms, halved
1-2 butternut squashes, seeded and cut into wedges
1-2 yellow squashes, cut into chunks

Then you go with everything below the onions for delicious taste.



Mix It Up


Preheat oven to 400.


Bring a large pot of water to boil and then add salt and potatoes. Cook for 5 minutes.


Drain potatoes, then add to a large baking pan (I suggest spraying some non-stick in this pan)


Add squash, onions and 2 tbsps of the oil.


Toss to coat, then roast for 10 minutes.


Add 1 tbsp of oil and the remaining ingredients to the baking pan.


Roast for another 15 minutes, turning the vegetables occasionally until tender and edges slightly charred.


Drizzle the remaining oil over-top and serve.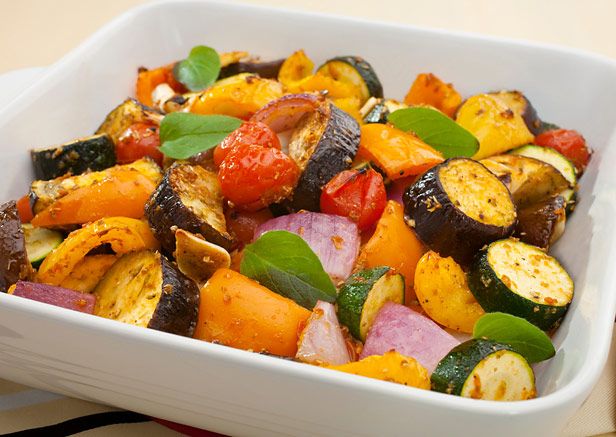 I feel better already about all the junk food I've been posting about. LOL Some people really don't like veggies but I'm a veggie person and I think sweet potatoes would be a wonderful substitution to the boiling potatoes though you wouldn't boil them because I think they'd just go soggy.