Okay this is by far one of my favorite recipes for a slow cooker. I absolutely love this and while I've posted it before I thought I'd do so again with some added variations I've found online. Now I have to tell you I've already had some of this at our extended family Thanksgiving but I have to admit I want it again and it is such an easy recipe. The best kind of recipes are the ones you just dump together and let sit.

Ingredients:
4 cups frozen corn (1 lb 3 oz family sized bag)
8 oz cream cheese, room temperature
1/2 cup milk
1/2 cup butter
1 tablespoon sugar
1 teaspoon kosher salt
1 teaspoon fresh ground black pepper (plus more for serving)

Additions (all optional):
1/2 to 1 jalapeno chopped up (as you desire)
4-5 slices of bacon cooked and crumbled up
1 tsp garlic powder
1 tbsp parsley (fresh or dried)



Mix It Up


Combine all ingredients in a 3 quart slow cooker, don't worry about mixing thoroughly, just throw it all in.


Cook on high for 1 hour, stir, then cook an additional hour.


Serve with fresh ground black pepper.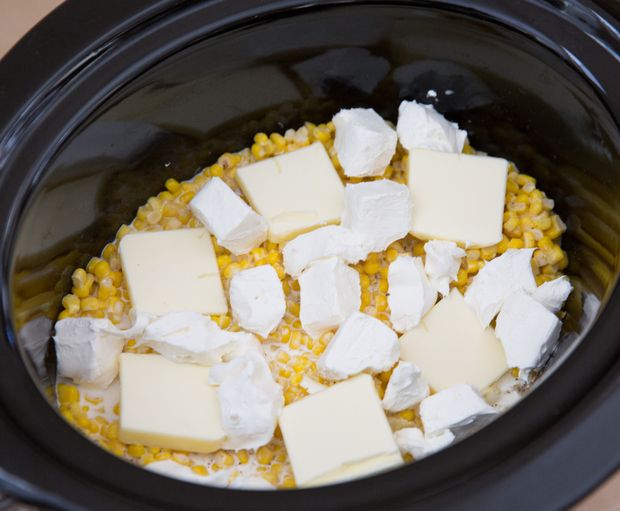 The additional ingredients are all optional. But I will tell you the jalapeno is the way we always make it and it is beyond delicious that way. And while the bacon one sounds delicious... I haven't made it and I'm not sure I would change it. Now I might just add garlic occasionally because garlic is delicious! Parsley is a great ingredient which doesn't change the flavor but occasionally enhances what is already in the recipe.

For our big family gatherings (20-30 people) we double this recipe but for a smaller family gathering this recipe should be fine. If you are going to double it you might need to add a little flour to thicken it up.