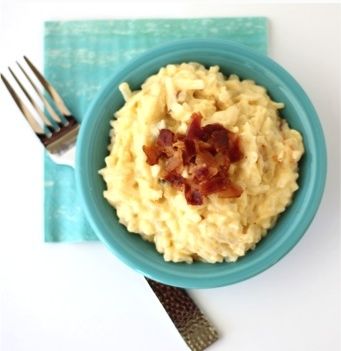 My family tends to do Christmas on Christmas Eve. I'm not entirely sure why we continued this tradition which is something instituted long ago when we were kids. It would be only 1 gift on Christmas Eve which generally morphed into all of them and leaving the stocking for Christmas morning because at the time, how would you explain Santa being early for the stockings?

Twenty years later (maybe more), the tradition holds though admittedly I'm not fond of it. I love the idea of doing everything Christmas morning. However, what this tradition has done has moved our Christmas dinner to Christmas Eve which leaves room for a delicious Christmas morning breakfast (though some do this anyway).

In the past we've just done some cinnamon rolls or some leftovers but over the years I've tried to convince my siblings and mother we should do a breakfast. It doesn't have to be fancy. Last year, we did eggs, bacon and some country potatoes. Since then I've come across this Slow Cooker Cheesy Bacon Hashbrowns which kills two birds with one slow cooker. I don't know if it will go over well for a Christmas morning breakfast but yummy nonetheless.

Ingredients
1 pkg Frozen Shredded Hashbrowns (around 1 lbs 14 oz.)
16 oz. Sour Cream
1 can cream of Mushroom Soup
1 8oz package shredded cheddar cheese
1/4 cup milk
1/2 white onion, chopped
1/4 cup butter, melted
1/8 tsp salt
1/8 tsp pepper
1/2 tsp garlic salt
8-10 slices of bacon, cooked and chopped



Mix It Up


Thaw hash browns slightly so they mix well.


Combine hash browns, sour cream, cream of mushroom soup, shredded cheese, milk, onion, salt, pepper, garic salt, and melted butter in large mixing bowl, and stir well.


Spray slow cooker, then transfer stirred mixture into slow cooker.


Cook on HIGH for 3 hours, or until done, stirring occasionally.


When serving, top each portion with chopped cooked bacon.


Part of me thinks something healthier on the side is a must! But then Christmas is rarely about eating healthy and is more of a splurge day. I suppose there is always the New Year for resolutions about watching what we eat.