Mason Jar Lid Ornaments
You can really make yours however you want and customize them for anyone in your family or a friends you wish to gift on to.
Materials
Mason jar lid and screw ring
Fabric scraps
Glue Gun
Scissors
Twine
Image/Cutout/Sticker for the center
First, you can find those liked in the canning section of almost any store anymore. I found some in the super market, the hardware store, Walmart, and Target.
Second, those pretty three dimensional sticker you can get for packages and even for scapbooks would be amazing for this. I'm going to have to go into JoAnn's fabrics and see what she has and I know I have a bunch of scraps of fabric from my rice bags phase.
Third, you don't have to give these away. Make a couple for yourself with your fandom on it. See I'm staring at that stag and all I can think is OUTLANDER! But with the fabrics you can buy now-a-days you could probably fit anything to a fandom. But now that I think about it I could get some mustache flannel for my niece who is a little nuts about the mustache design and I could probably find something very Japanese for my other niece who wishes she was part Japanese (we've told her it is impossible at this point). Oh and some flannel with cats for the cat lovers in your life. Got a few of those. The ideas are endless really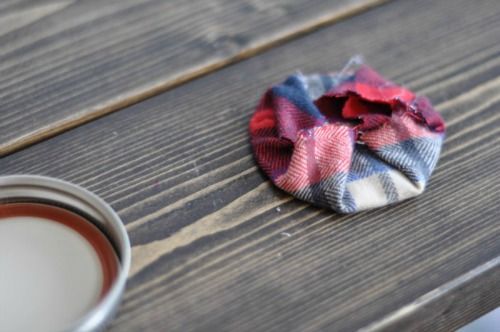 Put It Together


Make sure your pieces of fabric are cut larger than the lid.


Wrap fabric around the lid. Glue it down carefully in the back.


Tie your twine around the screw ring.


Line the inside of the screw ring with just a touch of glue.


Press the lid into the screw ring.


Find your cutout/image/sticker and center it under the twine.


You have an ornament! Brilliant no? I thought so when I saw this on another site so I had to share it.
You can also get some cardstock and cut to the size of the lids to glue to the back of the ornament if you fear someone would see the back which currently isn't that pretty. And now that I think of it... maybe a Serenity cut out with a darker flannel and maybe some stick on sequins for stars!