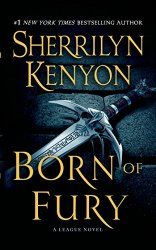 Title:
Born of Fury
Author:
Sherrilyn Kenyon
Series:
The League, 7
Pages:
687
Rating:
Links:
click image
Book Description:
The war is on...
Counted among the fiercest Andarion warriors ever born, Hauk is one of the five founding members of the Sentella- an organization that has declared war on the League that rules the Ichidian universe with an iron fist and terrifies it with an army of well-trained assassins. Hauk's enemies are legion, but he fears nothing and no one. He will do whatever it takes to survive and protect his Sentella brethren.
Sumi Antaxas is one of the best assassins the League has ever trained. In her world, failure is not an option and she has never met a target she couldn't execute. So when she's assigned Hauk, she believes it'll be a quick and easy mission.
But nothing is ever as simple as it seems, and Hauk is far better trained and skilled than his dossier shows. More than that, as she pursues him, she stumbles upon the key that will bring down not only Hauk, but the entire Sentella organization.
In the race to report her information, she is overtaken by enemies out to end her as effectively as she intends to end Hauk. Now her only key to survival is the one man she's been sent to kill. And Hauk doesn't trust her at all.
The only question is, will he help her to live... or send her to her grave.
Thoughts on the Book:
It is sad that this book could have been so much better. Now that isn't to say I don't like this book. The overall story was good. I was excited to finally read about Hauk and learn more about the mysterious Andarion. I even liked Sumi who was strong yet compassionate.
The thing that got me is the story seemed to drag on and every time anything happened we got a huge list of all previous characters, their spouses and their children. There was nothing subtle about it.
It was just too over the top.
But I enjoyed how the story played out and how Hauk's story has lead us into Fain's story.
It is just hard to get over the repetitive lines in the story and the continuing need to tell us how sexy Hauk is.
Sometimes I think Kenyon has these in between books that she forces out rather than writes because they just come to her. This felt like a forced book which I find sad because I so looked forward to a good book.
[
Spoiler (click to open)
]
Admittedly, I did enjoy Hauk finding Sumi's daughter and the little girls reaction to meeting the man who was going to claim her as his daughter. I also enjoyed some of the little girls silly remarks but even those got to be over the top.
The Series: