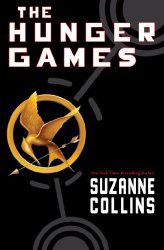 Title: The Hunger Games


Author:

Suzanne Collins

Series:

The Hunger Games Trilogy, 1

Pages:

387

Rating:
Links:
click image
Book Description:
Winning will make you famous.
Losing means certain death.

The nation of Panem, formed from a post-apocalyptic North America, is a country that consists of a wealthy Capitol region surrounded by 12 poorer districts. Early in its history, a rebellion led by a 13th district against the Capitol resulted in its destruction and the creation of an annual televised event known as the Hunger Games. In punishment, and as a reminder of the power and grace of the Capitol, each district must yield one boy and one girl between the ages of 12 and 18 through a lottery system to participate in the games. The 'tributes' are chosen during the annual Reaping and are forced to fight to the death, leaving only one survivor to claim victory.

When 16-year-old Katniss's young sister, Prim, is selected as District 12's female representative, Katniss volunteers to take her place. She and her male counterpart Peeta, are pitted against bigger, stronger representatives, some of whom have trained for this their whole lives. , she sees it as a death sentence. But Katniss has been close to death before. For her, survival is second nature.
Thoughts on the Book:
Finally, I read the book! I'd been meaning too and got completely sidetracked from the task. But boy am I glad I did. While the book and movie are very similar there is more to the book that makes you feel like you are with Katniss every step of the way. And it is great to get more of an inside view of how she feels about Peeta and Gale.

I've read several dystopian novels but I find this to be one of the best out there. My only question is where are all the chapters? It seems like Collins doesn't like Chapters and instead just keeps writing giving us "parts". This actually wasn't a detriment to the book but boy does it make it hard to put the book down!

I think this book would have had more surprise to it had I not seen the movie. Still the insights Katniss has over what you feel she may be experiencing in the movie is pretty different and makes the whole experience a little more real.

Collins did a fantastic job and I'm eagerly making my way through Catching Fire.
The Series: