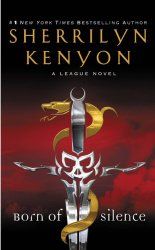 Title:
Born of Silence
Author:
Sherrilyn Kenyon
Series:
The League, 5
Pages:
699
Rating:
Links:
click image
Book Description:
As the Resistance leader, Zarya Starska's only goal is to topple the government that destroyed her entire family and left her penniless. Her biggest asset is a mysterious man known only as Kere.
But Kere has a dark secret. Born into a world that is as privileged as it is corrupt, his real name is Darling Cruel-and he is heir to the government Zarya wants to overthrow. No one has ever seen the real man behind the legend. No one except Zarya. But when she allows a weapon he designed to be used against his beloved sister, all bets are off.
Betrayed by the Resistance, Darling's goal is not only to reign, but to kill every Resistance member he can find. Zarya must stop Darling's reign of terror, but can she reach past his insanity to restore the hero who once fought by her side?
Thoughts on the Book:
I have to admit going into this book I didn't know how I would feel about it. It didn't get a lot of positive reviews about Darling and the whole gay or not gay subject and everyone seemed to hate Zarya. Personally I don't get it.
First and foremost, I actually really liked this installment because it really explained a lot about Darling and we really got insight into a subject that had been alluded to throughout the series.
I liked the struggle and the hardship this character had to overcome though I have to admit that Kenyon puts her characters through more than anyone could possibly survive.
Second, I don't understand the hatred of Zarya. I feel like there is a moment when it is possible to understand why people hate her but I don't really get it. She's always on Darling's side and the only time she's technically not is because she doesn't know it is him and she doesn't even know he's there. Other readers are blaming her for what happens to Darling and while she carries some fault she's really not guilty.
Overall this story is about Darling coming into his own and coming out, in a sense. There are reasons behind the is he or isn't he gay thing and for me it was well thought out and made sense. I also think Kenyon is stringing us a long a bit.
Zarya had some hardships in her life as well but they are far less than Darlings. But the thing is, it isn't a competition. One can feel bad for Z for her hardships and still be appalled at what happened to Darling.
Not only do I like the book but I also like Z.
The Series: