Chipotle Coleslaw



Oh my goodness was this good! So for Super Bowl Sunday we had our family gathering, not realizing it was Super Bowl Sunday as we aren't football fans - well most of us aren't. But it worked out perfectly because we had meatballs, twice baked potatoes, chili, nacho cheese dip, homemade macaroni and cheese, lasagna, Chinese chicken salad, enchiladas... yes, we had way too much food though we did have a lot of people there.

But what I brought was the Chipotle Coleslaw which was huge success. So I thought I'd share.

This pretty much filled a 4.5 quart Pyrex dish and served around 25 people. We had several servings left over.

Ingredients:
1/2 head of green cabbage, shredded
1/4 head of red cabbage, shredded
1/2 bag shredded carrots (I think the bag is maybe 6oz)
1/2 a medium red bell pepper, shredded
1/2 a bundle of cilantro, chopped finely
1 1/2 cups mayonnaise
1/2 cup sour cream
2 1/2 tbsp. Chipotle seasoning
1 1/2 tbsp. Lime Juice

Mix It Up:


Shred up green and red cabbage. Wash throughly and let dry.


Mix in shredded carrots, bell pepper and cilantro.


In a quart bowl, mix mayonnaise, sour cream, chipotle seasoning, and lime juice. Mix well.


Let dressing sit for several hours to marinate all the flavors together.


Mix dressing with coleslaw a little before serving.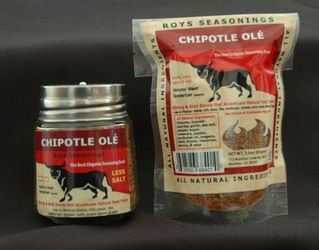 A lot of recipes call for the canned peppers being chopped up but I was looking for something easier and more like one of those Suddenly Salad pasta salads you can purchase at the store. So this was our solution which worked really well. We used Roy's Chipotle Ole Seasoning which you can see on the right. You can purchase this seasoning and others from his site Roy's Seasonings. I would assume if there is a chipotle seasoning you love it would work just as well.

Because we had a few servings left over. We made burgers last night and topped the meat with coleslaw rather than the standard lettuce. Oh boy was my Turkey Burger delicious but it was so messy because of all that yummy dressing. Well worth it though!

Happy Eating!