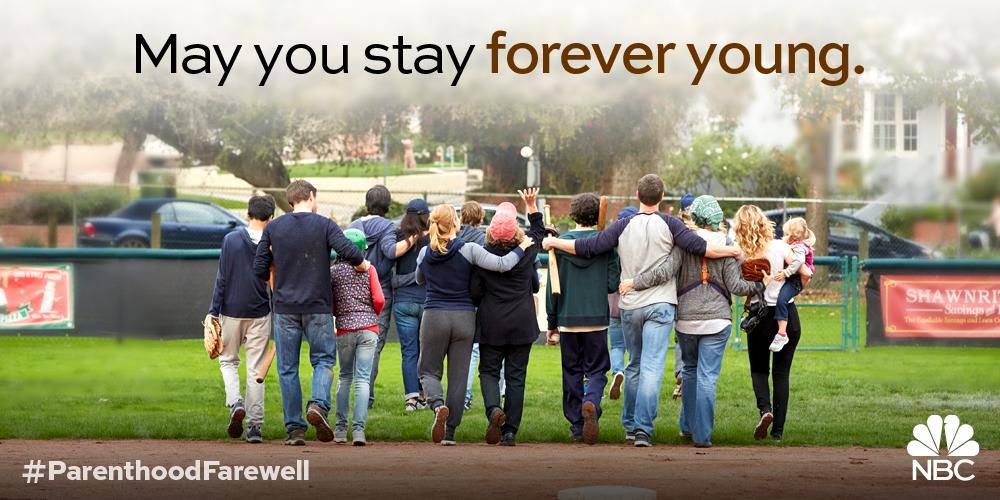 "May God bless and keep you always

May your wishes all come true

May you always do for others

And let others do for you"

-Bob Dylan

Last night, I watched the series finale of one of my favorite shows. And now, sadly, Thursday nights do not include the Bravermans.

I'm happy to say in most regards my family is very similar to the Braverman's. We are a team that comes together and supports one another. We are close and we are friends only our family spans from my parents being the siblings and we are the cousins (like Amber and Hattie) who are friends and cousins a like.

It was such an emormous treat to finally watch a show about what appeared to be a real family who genuinely loved each other and were constantly there to support whoever in the family needed it.

It started with Zeke and Camille the patriarch and matriarch of the family. The go-to parents/grandparents who are wise and always willing to help but are just as flawed as everyone else. Just because they are the elders doesn't mean they had life figured out. They had obstacles like all the others. A child coming back home, marital issues and then health.

Each member of this family had their own challenges throughout the show whether it was financial, medical, heartbreak, pregnancy, adoptions, unemployment, past relationships, new relationships, martial problems, or overcoming obstacles in the life of an autistic child. The Braverman's battled it out.

We got to see that Adam was the fighter, the one who held strong for the entire family while his wife Kristina was the emotional one who cried easily and sometime overreacted only to fix things and make things stronger in the end. They inspired a daughter Haddie to spread her wings and go to college across country (which the actress did as well). They raised Max, who has Asperger's Syndrome, through constant challenges to help him learn the things he didn't understand that some many of us take for granted. His challenges have been but Max soared with emotional lessons like bullying, love and his passion for photography. And then their surprise daughter Nora who brother Crosby helped to usher into the world. Their family endured a lot of ups and downs but in the end you realize that Kristina and Adam are a marital force to be reckoned with.

Sarah was the passionate artist type who's marriage fell apart and had to return to her parents home with her two teenagers to put her life back together and make sure her children had a more stable life. Her daughter Amber's life hasn't been an easy one. She was rebellious but when push came to shove her family meant the most to her as did her own passionate artist's soul which flourished with her Uncle Crosby after quite a bit of ups and downs with her military boyfriend Ryan. But with Amber her brother Drew was her best friend. They were closer than most would think they could be with a sibling and yet they'd been through so much together that their bond seems natural. And for Drew the big life changes sent him to his sister for advice and help culminating in him feeling he needed to make money in their part of the family to ensure his pregnant and single sister would be taken care of much to Amber's surprise. But Drew didn't have to worry about his sister who found her footing in the music business or his mother who fell into the photography business by meeting Hank (Max's mentor who also has a form of Asperger's) and finding where her heart belonged.

Speaking of Uncle Crosby, his life has been interesting. The wild artist of the family, he wanted to be part of the music industry which lead him into recording studios on the other side of the glass, adjusting sounds and whatever else he did in that booth. But much to this wild boy's surprise, he'd become a father without his knowledge and when he met his son Jabar he feared he couldn't be the father he'd had growing up. But big brother Adam and his parents were there to push him to succeed and succeed he did. He not only became a good father but realized he loved Jasmine (Jabar's mother) and made a beautiful life and home (with a lot of help from his brother-in-law Joel) for his family culminating in The Lunchonette his own recording studio which was another endevor with his brother Adam and now niece Amber.

Oh and speaking of the brother-in-law Joel, he started out as this quiet addition to the family. He was part of the Braverman family through his wife Julia. He was the supportive husband to his lawyer wife, staying home with their daughter and doing contracting on the side. You didn't expect a peep on this front until Joel and Julia wanted another child after their spirited daugther Sydney. To their dismay they can no longer have children and seek adoption only to be disappointed temporarily which is when Victor joins the family. Through Victor we see the ups and downs of adoption along with the strains on a marriage and how a divorce or the possibility of one effects such a family.



[

Spoilers of the Season Finale (click to open)

]

The finale was heartbreaking and beautiful. I expected we'd loose the Patriarch after several episodes focusing on his heart condition and the declined he'd taken. What I didn't expect is for Camille to find Zeke in his chair which was turned towards a chest covered in photographs of the family he loved so much. And the one thing Zeke instilled in his family was baseball. And in the end they honored Zeke by spreading some of his ashes on the field to PLAY BALL!


But first, we got to see Sarah marry Hank with her father present and able to walk her down the isle. We got to see Kristina help Adam realize he wanted to be in the teaching business and Max have his first dance with a girl. We got to see Drew tell his mom how much she meant to him and how happy he is that she's found happiness. We got to see Zeke and Camille tell Amber she needed to live with them so they could be her support for yet another member of their beloved family. We got to see Jasmine (beautiful soul and woman that she is) tell her husband how much she supports him (Crosby) in his endevor to make The Lunchonette a success without his brother Adam. And we got to see Crosby tell Adam this and see his big brother Adam not only encourage him but tell him he had every faith that Crosby could do it. And we got to see Julia and Joel make the decision to adopt Victor's newborn baby half-sister.

Their family thrives and flourishes.

And as the theme song played we got to see Amber with a new man and a new baby at a family dinner with Hank, Sarah, Drew, Ruby (Hank's daughter). Ryan stops by looking healthy and whole to drop of little Zeke (their child) and everything seems happy and friendly. We saw Julia and Joel's family not only included Victor's little sister but another baby (this one biological) that they were told they couldn't have making their family one of six just like her parents and siblings. We see Max graduated from highschool with his entire family there to cheer him on. We see Camille got to France to Chez Marie where Zeke wanted to take her. We see The Lunchonette going on while Crosby and family sit in the booth with Amber and guess who is pregnant... Jasmine.

But in the end all these people including, new babies, new loves and family by marriage come together to show us that despite the obstacle, love and family will continue and flourish. It is an optimistic ending but one that is the nature of the show and makes the fans see how love and life goes on.

I for one believe you either have this kind of beautiful family or you create it. Either way, I'm happy I got to watch 103 episodes of laughter, tear, happiness and sadness with a cast that seemed to embody the love and life of these characters.