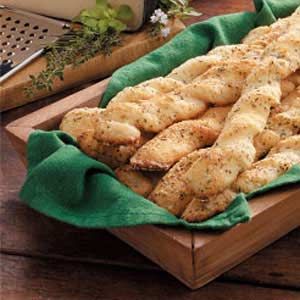 These breadsticks are a bit harder than I hoped they'd be but I don't tell you that to discourage you from trying them. They are delicious but they are going to take time and they are for special occasions.
I found these on Food.com. I didn't change them very much but they are really good brushed with butter when they come out of the oven.
Servings: 36
Prep Time: 30 mins
Cook Time: 10 mins
Other Time: 1:15 mins
Ingredients:
2 (1/4 ounce) packages active dry yeast
1 1/2 cups warm water (110 to 115 degrees)
1/2 cup warm milk (110-115 degrees)
2 tablespoons sugar
6 tablespoons butter, divided and melted
1/2 teaspoon kosher salt
1/2 teaspoon instant minced garlic (McCormick)
3/4 teaspoon dried Italian seasoning
4 1/2 cups all-purpose flour
1/2 cup grated parmesan cheese, divided (1/3 kraft parmesan cheese, mixed into the dough)
1/2 teaspoon garlic salt, for sprinkling on tops (to taste)
Mix It Up:


In a large mixing bowl, dissolve yeast in warm water and let it sit until bubbly, about 7-8 minutes. (The yeast has you add a little sugar for the activation process which you should do.)


Add the milk, sugar, minced garlic, Italian seasoning, 3 tablespoons butter, salt, and 2 cups flour.


Beat until smooth.


Stir in 1/4 cup parmesan cheese and enough remaining flour to form a soft dough.


Knead with bread hook for 7-8 minutes adding additional flour as needed.


Place in a greased bowl, turning once to grease top.


Cover and let rise in a warm place until doubled, about 45 minutes.


Punch the dough down and let it rest a couple of minutes.


For thin bread sticks, divide into 36 pieces or make a smaller number for bigger breadsticks.


Shape each piece into a 6 inch rope.


Place 2 inches apart on a greased baking sheet.


Cover and let rise until doubled, about 25-35 minutes.


Melt remaining butter and brush over the dough.


Sprinkle with Parmesan cheese (if you used powdered don't sprinkle it on top) and garlic salt.


Bake at 400 degrees (375 for our gas oven) for 8-10 minutes or until golden brown.


Remove from pans to wire racks.


In our family, bread is a must. So we like making them. When the flour requirements are low we can use the breadmaker to help with the mixing and rising process.
Something I discovered about making bread, of any kind, is in the winter we tend to have to make the house super hot with the woodstove going. But in the summer or in the winter when the temperatures is unnaturally high, putting the bowl into a car that is sitting in the sun makes the bread rise rapidly. This is super helpful when you are running on a time crunch.
Also, our family believes garlic is essential. *wink*
Current Mood:
hungry