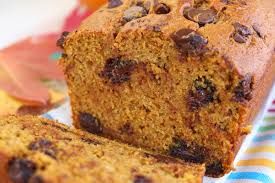 Ingredients

3 cups white sugar
1 (15 ounce) can pumpkin puree
1 cup vegetable oil
⅔ cup water
4 eggs

3½ cups all-purpose flour
1 tablespoon ground cinnamon
1 tablespoon ground nutmeg
2 teaspoons baking soda
1½ teaspoons salt

1 cup mini semisweet chocolate chips

½ cup chopped walnuts (optional)


Directions:
1. Preheat oven to 350 degrees F. Grease and flour three 9x5 inch loaf pans. Or four 8x3.

2. In a large bowl, combine sugar, pumpkin, oil, water, and eggs. Beat until smooth.

3. Blend in flour, cinnamon, nutmeg, baking soda, and salt.

4. Fold in chocolate chops and nuts.

5. Evenly distribute among loaf pans.

6. Bake for 1 hour, or until an inserted knife comes out clean. Cool before removing from pans.

Notes:
I think it could use 1/2 a tsp more of nutmeg and cinnamon and maybe even more pumpkin puree. I haven't tried this variation yet and it was still fantastic (without walnuts).