22nd Day of Christmas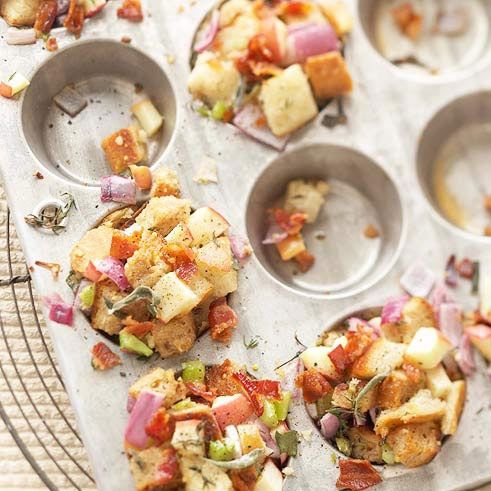 Most of the people in my family are not big stuffing fans though these sound delicious and I'm willing to try almost anything once. So here is a fun way of doing the stuffing and making it unique.



Needed


9 cups bread cubes (12 slices bread)
Nonstick cooking spray
9 slices bacon
2 tablespoons butter
1 1/2 cups coarsely chopped red onions
3 stalks celery, chopped
1 teaspoon dried sage, crushed
1 teaspoon dried thyme, crushed
2 large Granny Smith or fuji apples, peeled (if desired), cored, and coarsely chopped (about 3 cups)
1 tablespoon minced garlic (6 cloves)
1/4 teaspoon ground black pepper
1 cup chicken broth
Small fresh sage leaves (optional)




Make Them


Preheat oven to 300 degrees F.


Spread bread cubes in a 15x10x1-inch baking pan.


Bake, uncovered, for 10 to 15 minutes or until cubes are dry, stirring twice; cool. (Cubes will continue to dry and crisp as they cool.) Or let bread cubes stand, loosely covered, at room temperature for 8 to 12 hours.


Preheat oven to 375 degrees F. Lightly coat twelve 2-1/2-inch muffin cups with cooking spray; set aside.


In an extra large skillet, cook bacon over medium heat until crisp. Drain on paper towels; crumble bacon. Drain fat, reserving 2 tablespoons drippings in skillet.


Add butter to skillet. Add onions, celery, and herbs; cook over medium heat for 7 to 10 minutes or until vegetables are tender, stirring occasionally.


Add apples and garlic; cook and stir for 2 to 4 minutes or until apple is just softened. Transfer to an extra large bowl.


Add bread cubes, crumbled bacon, and pepper to vegetable mixture; toss gently to combine.


Add broth and toss until moistened.


Spoon about 2/3 cup stuffing into each prepared muffin cup; press to pack tightly. If desired, top each cup with a fresh sage leaf.


Bake, uncovered, for 20 to 25 minutes or until stuffing is hot and tops are light brown.


Cool about 10 minutes.


Carefully remove from pans; serve warm.


Makes 12 servings.


Days Til Christmas: 3