18th Day of Christmas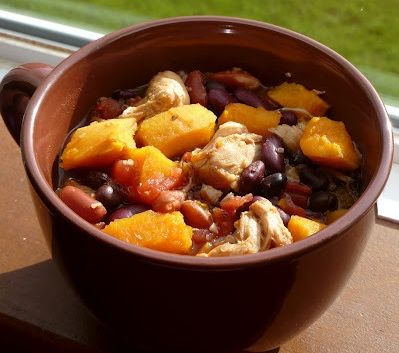 This is a tasty treat to me! And what a lifesaver. With all those crazy things I've been fielding at work, I wanted something that wouldn't be too hard to make when I got home. And bonus it is healthy, gluten free and delicious!
Needed
2 tablespoons olive oil
1 large onion, diced
4 cups chicken broth
1 14-oz. can (small can) fire roasted diced tomatoes
1 15-oz. can (small can) black beans, or 1.5 cups cooked black beans, drained and rinsed (I can't eat black bead so we did kidney beans but you could do pinto or white)
1 heaping teaspoon smoked paprika
salt and pepper, to taste
2 small-medium sweet potatoes, diced (about 3-4 cups total)
2 cups cooked shredded chicken (such as rotisserie)
2 tablespoons chopped fresh parsley, plus more for garnish
Make


Saute the onion in olive oil in a large pot over medium high heat until soft (2-3 minutes)


Add the chicken broth, tomatoes, beans, smoked paprika, salt, and pepper. Bring to a boil.


Turn the heat to low and add the sweet potatoes. Simmer until sweet potatoes are cooked through, approximately 15 minutes (depending on how small you cut them).


Use a potato masher (or immersion blender) to mash the soup a few times to thicken it up a bit.


Turn the heat off and add the chicken and parsley. Stir and allow to sit for a minute or so to make sure the chicken gets warmed through.


Serve hot garnished with extra fresh parsley.


So I read you can make this Paleo compliant by omitting the beans. You can make it vegetarian/vegan but omitting the chicken and changing to vegetable broth.
For added spiciness, add a little bit of cayenne pepper with the paprika.
You can freeze leftovers in an airtight container or bag for 6 months.
Also, I have canned chicken I use (I know people think it is gross but the stuff at Costco is delicious in soups) but if you don't have chicken prepared or don't want to buy a rotisserie chicken from the market you can poach raw chicken in boiling water before you start the soup (for about 20 minutes). Start your soup and by the time you get to the chicken part just shred the poached chicken.
Also if you want to make the soup go farther you can serve it with brown rice or quinoa. This serves 4-6 people.
Days Til Christmas: 7