14th Day of Christmas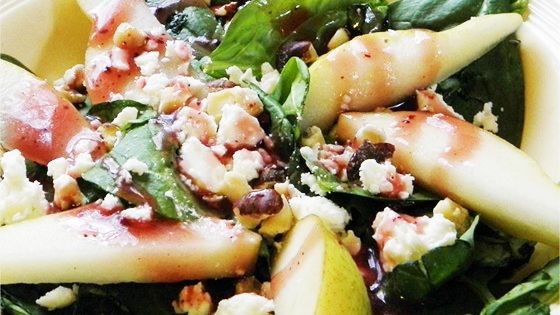 Every year we have the same dilemma. Vegetables or salad? And usually we end up with just vegetables because everyone had a different idea of what should be in their salad. This year for the big family dinner I'm going to make this salad which is delicious and a favorite among the extended family.



Needed


1/3 cup walnut pieces
8 oz. baby spinach
2 ripe pears, cored and sliced
1/2 cup pomegranate seeds
1/4 cup crumbled feta cheese



Make It


Preheat an oven to 350°F. Spread the walnuts out on a baking sheet and toast in the oven until lightly browned and fragrant, about 10 minutes.


Immediately pour onto a plate to cool. Set aside.


Add the spinach, pears, pomegranate seeds and walnuts to the bowl and toss gently to mix.


Sprinkle with feta.


Serve immediately.


Serves approximately 4.

I have done roasted almonds because I had them but I happened to have walnuts this time around. Some like blue cheese but I'm not a blue cheese fan and switched it to feta.

Also if you are inclined to make a dressing you'll need:
3 Tbs. cider vinegar
2 Tbs. extra-virgin olive oil
1 Tbs. honey
1 tsp. Dijon mustard
1/4 tsp. salt
1/8 tsp. freshly ground pepper

Just whisk the ingredients together to get a dressing. I personally enjoy a good raspberry vinegarette which I just pick up at the store.

Days Til Christmas: 11