12th Day of Christmas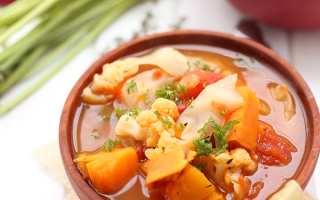 So I get about halfway through December and start feeling like I'm eating too many unhealthy things (really not as much as you'd think) and feel I need to make a delicious but healthy meal. So I thought I'd share one with you. It isn't very Christmasy but it is a nice break for the unhealthy Christmas treats.
Needed
1 tablespoon olive oil
1 large onion, chopped
2 carrots, peeled and chopped
2 celery stalks, chopped
4 cloves of garlic, minced
1 large sweet potato (about 2 cups), chopped
2 cups peeled butternut squash, chopped
2 cups cauliflower florets, chopped
2 cups sliced cabbage
1 14oz (to 15oz) can diced tomatoes
6 cups of vegetable stock
2 teaspoons Italian seasoning
1/2 teaspoon cracked black pepper
1 teaspoon sea salt
2 tablespoons freshly chopped parsley
Make It


Heat up a large pot over med-high heat and add olive oil.


Throw in onion, carrot and celery and cook for 3-5 minutes or until onions are translucent.


Add in garlic and cook for 1 minute.


Add in sweet potato, butternut squash,and cauliflower and cook for 5 minutes.


Top with cabbage, diced tomatoes, vegetable stock and spices and give it a stir.


Bring to a boil and then let simmer, uncovered over medium heat for 30 minutes.


Top with fresh parsley and serve warm.


Will keep for a week in refrigerator and freezes well for several months.


Just a few things. I know it is a vegetable soup but as it turned out we simply forgot about the vegetable stock and so all we had was chicken stock. It worked out nicely and tasted delicious. I think to some degree, you might like to up the seasonings a little depending on how much flavor you prefer. We didn't and it came out quite good to me but my sister thought it needed more flavor though she really like the spices to be what you taste rathe than complimentry.
Also this makes about 6-8 servings meal wise so it is a good amount.
Now for those with kids who are unlikely to eat all those veggies, I mostly don't know what to say. If it had more of a cream base I'd say use and immursion blender on it to hide all the healthy but I don't know that would work well in this soup. If you try it and it works, be sure to let me know.
Days Til Christmas: 13