9th Day of Christmas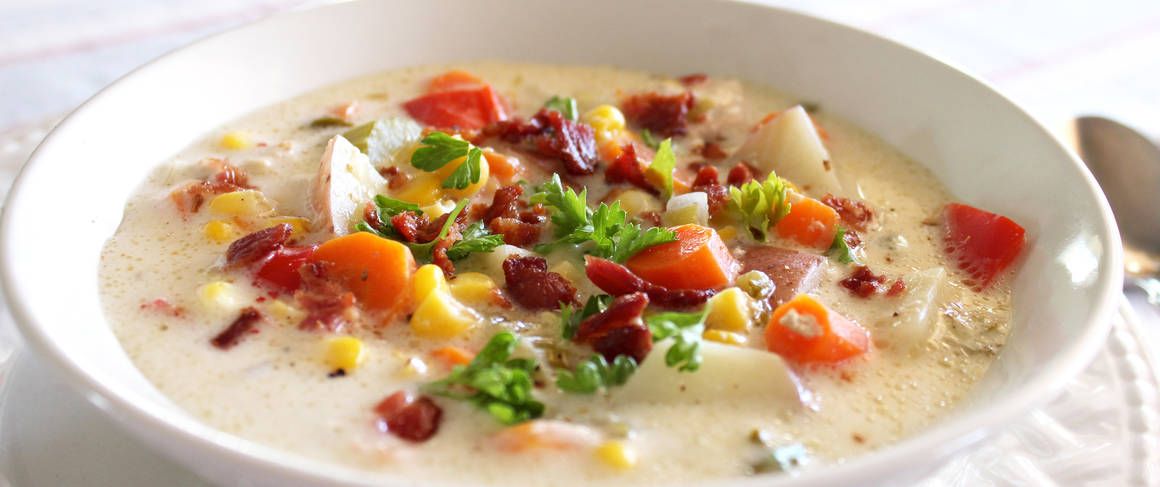 To me winter time and Christmas time go hand in hand though I do live in the Northern Hemisphere so that is probably why. I also equate it with cold and soups and chowders. This is a lovely and fairly easy recipe which will not only warm you up but make a lovely addition to a holiday party or family gathering.
Needed
1 medium yellow onion, diced
1 red pepper, chopped
3 15-ounce cans yellow corn, drained
3 cups heavy cream (see note)
2 cups low sodium chicken broth
1 pound baby red potatoes, chopped into 1 inch pieces
2 teaspoons Italian seasoning
¼ cup flour
salt and pepper, to taste (I used about 1 teaspoon each)
4-6 slices bacon, cooked and diced
I'd say the bacon is optional but many think there is no reason to leave it out and, in fact, look for ways to add bacon to things. Still, it really is an optional choice.
Make It


Add onions, red pepper, corn, milk, chicken broth, potatoes, flour, and Italian seasoning to slow cooker and stir.


Cover and cook on high 4 hours or low 6-8 hours.


Potatoes should be easily pierced with a fork.


Stir in salt and pepper to taste and bacon.


Garnish with fresh parsley if desired and serve.


Notes
If you do not have the heavy cream, you can use milk though the chowder will be less creamy. You may need to add a little flour to the milk and whisk it before you add it to the slow cooker.
Also, this makes about 4 servings so if you are looking for leftovers or are thinking of taking it to a gathering, you may need to double it.
Days Til Christmas: 16