7th Day of Christmas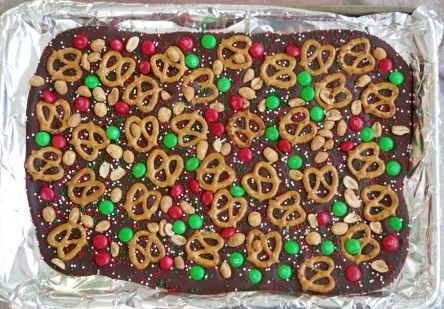 Here is another thing you can add to a goodie box for friends, family and neighbors. I'm not a huge fan of pretzels but I do love them covered in chocolate. And most of the time Christmas "Bark" is Peppermint Bark which I don't enjoy. So why not make a Chocolate bark with pretzels, nuts and some colorful candy to make things fun.
Needed
3 cups semi-sweet chocolate chips
2 tbsp shortening
pretzels
peanuts
green & red chocolate candies
Christmas sprinkles
Before we make these I just want to say that those colorful candies remind me of Christmas lights and guess who didn't plug hers in to check they worked before setting up the entire tree??? Yep. Fun times. Now we have a section that doesn't light up.
Do you check the lights before putting them on the tree?
Make It


Heat chocolate chips in a microwave safe bowl for 30 second intervals stirring in between until smooth. (Can take up to 2 minutes though mine took a little less time.)


When chips are melted, stir in shortening and heat in 10 sec. intervals until smooth.


Pour chocolate onto a foil lined baking tray (I'm thinking parchment would have been easier to work with). (You could lay the pretzels first but it might bet hard to get them to stay in one place.)


Sprinkle with toppings pressing firmly into chocolate as you go.


Refrigerate 1-2 hours or until firm.


Remove foil, break into pieces and enjoy!


I tend to take a lot of my goodies to church or other gatherings and they never last though I usually get good feedback. Some thought making sure the pretzels were covered might be better and others just loved them the way they are. It always kills me when people think the way you've made something is so odd and yet they don't stop eating it. Oh well.
Days Til Christmas: 18