6th Day of Christmas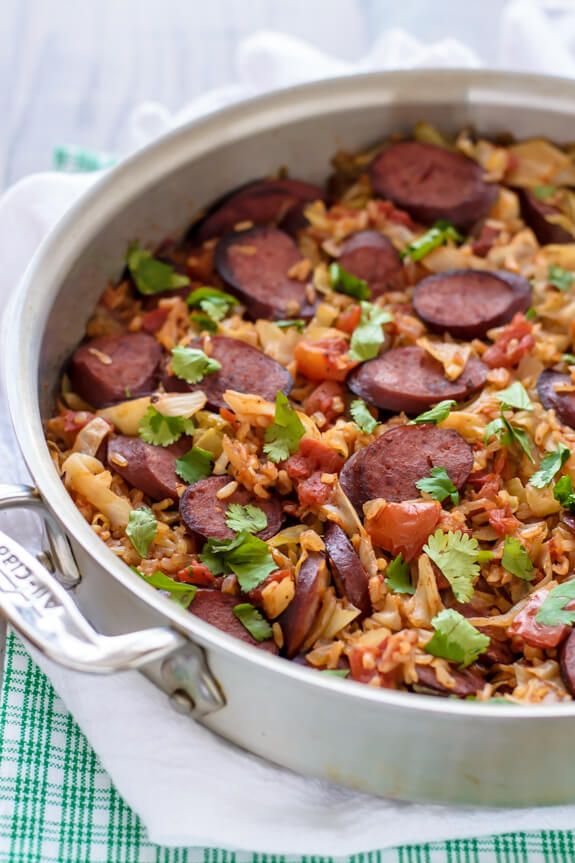 I adore one pot meals especially when they are also quick meals. I also happen to love sausage whether it is turkey or pork. Turkey just happens to be the healthier option though I found a Chicken Sausage which had Pepper Jack cheese it in which makes everything amazing. But this recipe is so simple and tasty. I especially love how it is a complete meal though a nice salad on the side wouldn't hurt.
Needed
3 tablespoons extra virgin olive oil, divided
14 ounces smoked (fully cooked) turkey or chicken sausage, sliced into rounds
1/2 head of cabbage, cut into thin slices
1 small yellow onion, diced
1/2 teaspoon kosher salt
1/2 teaspoon black pepper
1 1/4 cups low sodium chicken stock
1 (15 ounce) can fire roasted tomatoes in their juices
1 cup instant brown rice
Make It


Heat 1 tablespoon olive oil in large nonstick skillet on medium-high heat.


Add the sausage slices and cook for a few minutes on each side, until brown.


Remove to a plate, blot with paper towels if needed, and set aside.


With a paper towel, carefully wipe out the skillet. Heat the remaining 2 tablespoons olive oil on medium high. Add the cabbage, onion, salt, and pepper and cook the onion begins to soften and brown, about 5 minutes.


Add 1 cup of the chicken stock, cover and reduce heat.


Simmer for 10 minutes, then add the remaining 1/4 cup chicken stock, canned tomatoes in their juices, and rice, stirring well. Bring to a boil, stir again, then cover and simmer on low heat for 5 minutes.


Stir in the reserved sausage slices mixing well, then recover and remove from heat.


Let stand 5 minutes, until most of the remaining liquid is absorbed and the rice is tender. Serve warm.


I hope this meal finds you all well and that the making of it didn't interupt your busy Christmas filled lives too much. I know right now, I need some quick and easy meals so I'm hoping to continue them throughout these advent posts.
Days Til Christmas: 19