3rd Day of Christmas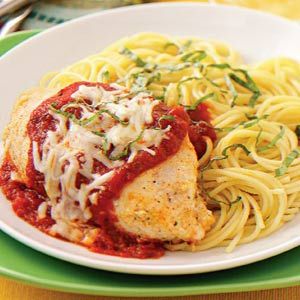 So good only the pro pic looks better (below)! So with the holidays in full swing, life is busy for a lot of us so a quick meal is ideal. I love 30 minute or 20 minute meals so here is one I saved a while back and finally got to try!
Needed
4 small chicken breasts, thawed
1 tablespoon olive oil
1 tablespoon minced garlic
½ cup chopped onions
1 (14 ounce) can crushed tomatoes
½ teaspoon EACH Italian seasoning AND red pepper flakes (see notes)
¼ teaspoon dried basil
1 tablespoon sun-dried tomato pesto (homemade or store-bought) (see notes)
salt and pepper + ¼ cup water
4 slices mozzarella cheese (or 1 cup shredded)
Make It


CHICKEN: Sprinkle the chicken with a pinch of salt and pepper on both sides. Heat a large nonstick skillet over medium high heat with the olive oil.


Add the chicken to the skillet and cook for about 3-5 minutes per side or until the chicken is completely cooked through, remove to a plate.


If you are planning on serving this with pasta, get the water going and cook the pasta according to package directions.




TOMATO SAUCE: Preheat the oven on the broiler setting.


Add the onions to the oil remaining in the pan. If there isn't any, add in about ½ teaspoon and sauté the onion for 2-3 minutes until the soften, add the garlic and let cook for 30 seconds.


Add the crushed tomatoes, Italian seasoning, red pepper flakes, dried basil, and pesto and stir to combine.


When the sauce reaches a simmer, add a ¼ cup of water, lower the heat, cover and allow to simmer for 10-12 minutes or until the sauce thickens a bit.


Season with salt and pepper to taste.




ASSEMBLE: Nestle the chicken breasts into the sauce and using a spoon, cover the chicken with sauce. (You might have to put it in a ove safe pan or dish.)


Top each breast with a slice of cheese.


Place under the broiler for 1-2 minutes or until the cheese gets nice and bubbly and just melts.


Top with chopped parsley or basil ribbons.


Serve with pasta or crusty bread and a salad.


And fall in love because it is soooo good. And there just isn't anything like melted bubble baked mozzarella cheese!
I hope you enjoy this as much as I did. Of course, I only had the spaghetti noodles and it looks better on the fettuccine....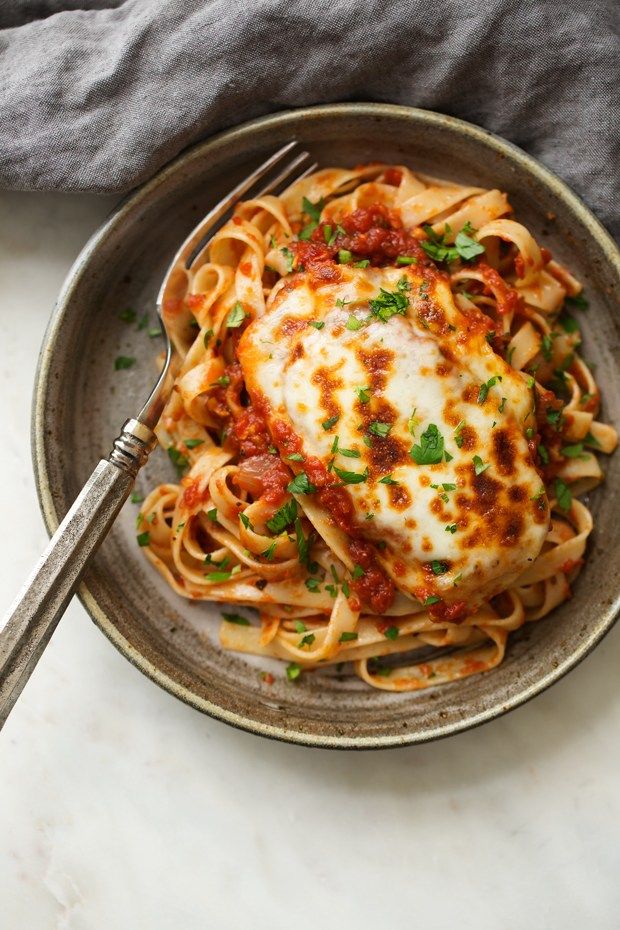 Days Til Christmas: 22
Current Mood:
hungry