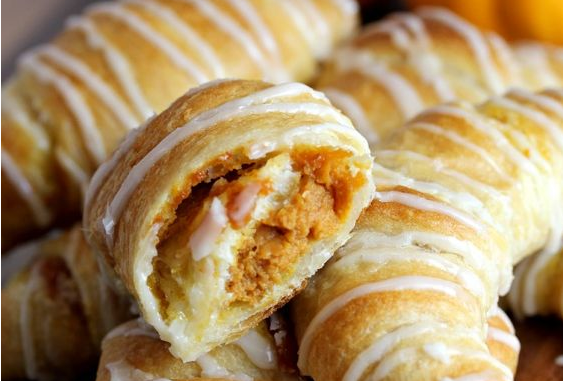 I find this to be a great way to use up some pumpkin after making things like Pumpkin pasta. So I guess I'm grateful for coming up with a way to use leftover ingredients. Sometimes these things just go to waste. I don't like wasting stuff like pumpkin which isn't that cheap to buy. So when there is a fun recipe which will finish off the leftovers, I'm all for it.

Needed
1 roll Pillsbury Crescent rolls
1/2 cup canned pumpkin pie filling
1/2 teaspoon pumpking pie spice
1 egg yolk

Glaze
1/2 cup powdered sugar
1 tablespoon pure maple syrup
1/2-1 tablespoon milk

So here was my dilemma. We had left over pumpkin not pumpkin pie filling. So I thought I should up the spice content. I did 1/2 teaspoon cinnamon and nutmeg and then a tablespoon of sugar.

Make It


Preheat over to 350 degrees


Combine pumpkin, egg and spices


Unroll crescents and place 1 slightly heaping tablespoon of mix on each crescent


Starting with the large end, roll the crescent over once and slightly pinch the sides to contain the filling. Continue rolling and place on a parchement paper lined pan.


Bake 10-12 minutes on until browened.


Combine glaze ingredients until smooth.


Drizzle over crescents.



So I discovered that if you are cooking the mixture inside you want to turn the temperature down and cook these a little longer which will cook the crescent and heat the pumpkin. So I typically go with 25 degrees under what the pillsbury packaging says. Of course, it also depends on your oven. We already cook our crescents 25 degrees lower so I went 50 for these pumpkin pouches.



Simple thing to be grateful for but what are you grateful for today?