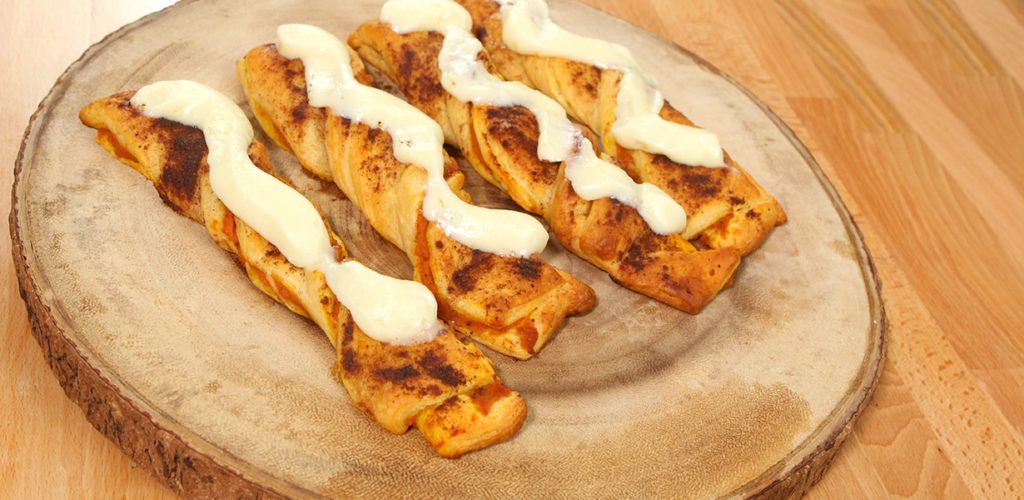 Today I'm grateful for something that has nothing to do with what I'm sharing. What I'm grateful for is the ability to participate in something like Operation Christmas Child. Over the weekend; my cousins, their kids, my aunt and other friends got together to put together boxes for Operation Christmas Child. These boxes go over seas to children who normally would never get a Christmas present. Inside the boxes, are mostly necessities like cups, silverware, toothbrushes, etc but we also include a little treat and a game and other toy. Some of the kids wish just to have something like a stuffed animal of their own or a ball or just something we take for granted. So making these boxes to bring a little joy to a child feels good because I know somewhere in the world a child will be excited. So I'm thankful for the ability to do this and the organization that makes it possible.

For a treat here is the Pumpkin Pie Twists

Needed
1 8 oz can crescent rolls
1/2 cup pure pumpkin puree
3 tablespoons butter, melted
3 teaspoons pumpkin pie spice

Cream Cheese Icing
1/4 cup unsalted butter, softened
1/4 cup cream cheese, softened
1 cup powdered sugar
1/2 teaspoon vanilla extract

Make It


Preheat oven to 375F.


Line backing sheet with parchment paper or silicon baking mat.


Unroll crescent dough and lay down as 4 rectangles on prepared backing sheet.


Spread pumpkin puree onto 2 of the rectangles.


Place the other 2 rectangles on top of the pumpkin.


Press edges together.


Brush melted butter on top of rectangles.


Sprinkle with pumpkin pie spice.


Using pizza cutter, cut both rectangles into 6 strips.


Twist each strip a few times and sprinkle with pumpkin pie spice.


Bake for 8-10 minutes.


In a large bowl, beat together the butter and cream cheese with an electric mixer for cream cheese icing.


Fill a zip-lock bag, snip corner and top cooked twists with mixture.


What are you grateful for today?