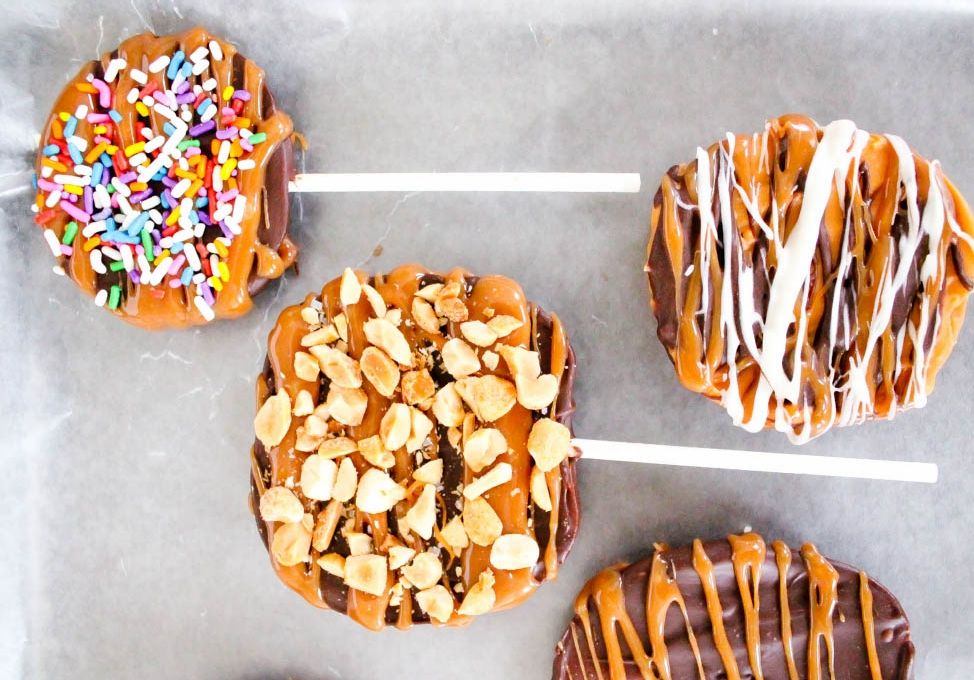 Am I thankful for fruit or fruit dipped in caramel and possibly chocolate? This is hard to say but I'm thinking the invention of caramel surrounding apples makes me happy but also getting together with my nieces, siblings and my mom to make caramel apples. Now I couldn't convince them these slices were the greatest idea in the world but I still wanted to share this because I think it is brilliant.

The image is from a gals website (since I didn't get to make them) who covered the apples in chocolate because caramel doesn't stick well and will weep off.

But I'm wondering if you laid out the slices on parchment and then poured the caramel over them in spoonfuls before sprinkling nuts and other goodies on them; if it would work. I'm tempted to try it. And should I, I'll share the results though I've not gotten the chance yets as it was all about dipping apples with the family.

So here is what you'll need:


Apples


Melting caramel like Kraft


Melting Chocolate (for the chocolate covered option)


Chocolate candies like M&M's for decorating


Reese's pieces for decorating


chopped nuts



Some suggestions for making Caramel Apple Slices:


Cut the apples slices fairly thick to keep them on the sticks (if you are going to do that) otherwise it is more of a ratio of sweet to apple content.


Pat down the apples to remove excess moisture.


Allow your melting chocolate to get onto the stick to act as a glue.


If drizzling caramel on the chocolate; make sure the caramel is slightly cooled to prevent melting the chocolate off.


Making them and eating them the same day makes for less weeping and less of the yumminess coming off in spots but this is not required. They will keep overnight in the refrigerator.


I'm going to suggest you try these or just try the caramel. If you are just trying caramel, I would cut them thicker and still pat them down to dry them a bit. I'd also recommend putting the caramel in the center of the slice and letting it start it's drying process as it spreads over the slice.

Then I would drop the nuts and some candies on them.



I'm personal grateful for chocolate too, but what are you grateful for today?