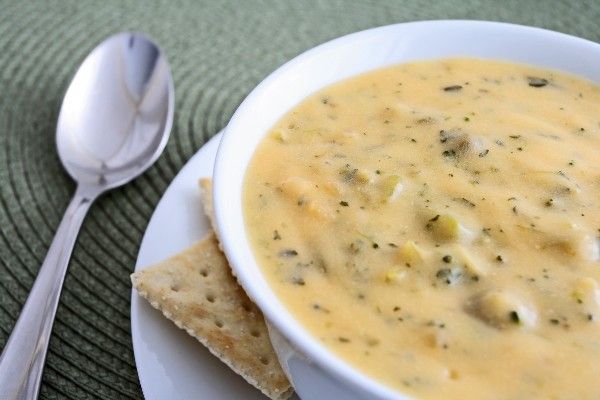 Right now I'm thankful for

SOUP!

There is nothing like soup when cold weather rolls in. It is cozy. I personally feel like I can curl up with a bowl and watch some movies or my favorite shows.

My favorite thing about this soup is how long it takes to make. Only 20 minutes. So fast.

Needed
1 tablespoon butter
1 small onion, diced
1 cup diced carrots
3 cups fresh broccoli
1 cups chicken broth
1/2 teaspoon thyme
1/2 teaspoon garlic powder
2 tablespoons flour
1 1/2 cups light cream
1 cup sharp cheddar cheese
1/3 cup fresh parmesan cheese

How To


In a large sauce pan, cook butter, onion and carrots over medium heat until onions soften (about 3 minutes).


Add broth, broccoli, thyme, garlic powder.


Remove 1 cup of vegetables and set aside.


With immersion blender, blend remaining veggies and broth.


Place flour in small bowl, add in cream a little at a time stirring until smooth.


Bring soup to a boil and whisk in cream mixture. Continue whisking until thick and bubbly (about 3-4 minutes).


Remove from heat, stir in cheeses and veggies we set aside.


I like my soups more chowder like with chunks so I tend to cut the veggies into small pieces and leave them as is which you can do if you don't have an immersion blender or you're like me and prefer it that way.

I love Parmesan but my sister hates it so some times we switch it out for other flavors. We've gone spicy and added Pepper Jack but you can add what you want. Gruyere is really good.

I don't now about you but sometimes the added oyster crackers just make me happy.



What are you grateful for today?